Vous êtes invités au premier webinaire tenue en français du Réseau Mondial des Femmes écologistes (Global Greens Women's Network)
Date: Samedi, 24 Septembre 2016
Heure: UTC 12:00 (midi) (voici les conversions de l'heure dans votre pays)
| | |
| --- | --- |
| Ottawa, Canada | 08:00am |
| Bamako, Mali | 12:00 |
| Paris & Brussels | 14:00 |
| Beirut, Lebanon | 15:00 |
| Canberra, Australia | 22:00 |
Écoutez l'enregistrement audio du webinaire
Sujet de discussion:
Chaque invité nous partage leurs expériences de:
développement personnel dans la politique écologiste

comment elles ont surmonté les défis, et

les actions politiques sur lesquelles elles travaillent en ce moment
Panélistes:
Afrique: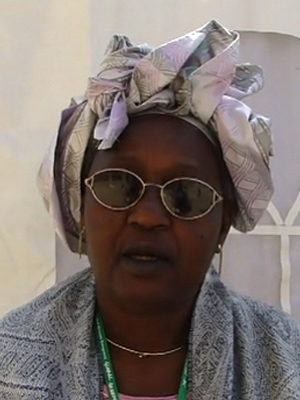 Fadimata Bintou Touré
Fadimata est la Présidente du Parti écologiste du Mali et Professeur de l'Enseignement supérieur.
Amériques:  
Carmen Budilean
Depuis 2009, Carmen a travaillé avec les divers partis verts à travers le Canada. En 2011, elle s'est présentée comme candidate du Parti vert du Canada dans la circonscription de Saint­ Lambert.  Elle a ensuite siégé au sein du Conseil exécutif du Parti vert du Québec et a agi à titre de directrice de campagne pour le Parti vert du Nouveau­-Brunswick. Elle a également travaillé en tant qu'organisatrice lors des élections fédérales avec le Parti vert du Canada en 2015. Aujourd'hui, elle est la directrice générale du Parti vert du Nouveau­ Brunswick.  Carmen est membre de nombreux groupes environnementaux et de groupes luttant pour la justice sociale et l'égalité des sexes. Carmen a pris la parole à maintes reprises devant des Centres de femmes pour parler de la réalité des femmes et de l'importance de l'égalité des sexes. 
Asie-Pacifique: 
Marie Therese Merhej Seif
Membre du Conseil politique du Parti Vert du Liban et aussi Fondateur du ONG "Association Humaine d'Environnement et de développement (HEAD)".  Membre du Bureau de l'Information Méditerranéen pour l'environnement, la culture et le développement durable (MIO- ECSDE), Membre du Réseau Arabe pour l'environnement et le développement (RAED), Membre du conseil exécutif du Forum libanais Environnement (Parasol de 46 ONG).  Elle détient une maîtrise d'Ingénieur Architecte / Diplôme de photographie, Diplôme sur Charters Arbitrâtes et Expert Assermenté auprès des tribunaux libanais.  Son intérêt depuis plusieurs années de promouvoir la présence de plus de femmes libanaises dans la politique active.  Elle croit que la participation équitable des femmes dans la politique et le gouvernement est essentielle dans toute société démocratique.
Europe:
Catherine Grèze 
Catherine est une personnalité politique française, membre du parti Europe Écologie Les Verts, et eurodéputée de 2009 à 2014.  Ses parcours militant et professionnel sont marqués par l'international. Elle rejoint la politique et les Verts dès 1985. Elle fut en charge de l'Europe et de l'international au sein de l'exécutif national du parti. Membre du comité exécutif du Parti vert européen durant neuf ans, elle sera l'un des piliers de la coordination des Verts mondiaux. Elle participe activement à l'organisation du premier congrès mondial des Verts en 2001 à Canberra et à la rédaction de son texte de référence : la Charte des Verts mondiaux.    
Modérateur:  
Evelyne Huytebroeck
Evelyne est une membre du Comité du Parti vert européen; Députée Belge écologiste, ancienne ministre du gouvernement de la région de Bruxelles chargée de l'environnement, énergie, rénovation urbaine, jeunesse – action sociale, adoption, aide aux détenus, lutte contre la pauvreté, personnes handicapées – et seniors. Evelyne a été une militante écologiste depuis 1982 et élue au Parlement bruxellois depuis 1989.  Son objectif: faire une ville-région durable qui concilie développement économique et création d'emplois, protection de l'environnement et justice sociale mais aussi revitalisation des quartiers et participation citoyenne.
La structure du webinaire:
Durée totale: 1 heure 30 minutes

15 minutes: Présentation du logiciel Webex, comment y participer, et introduction des présentateurs

30 minutes (maximum): 5 minutes chacun des présentateurs + 1 minute de transitions.

45 minutes: Q & A – interventions seront sélectionnés pour la diversité

 
Détails:
Le webinaire sera tenue 

entièrement

 français. Nous n'avons pas trouvé un bon moyen de fournir des traductions en anglais 

simultanément 

au cours du webinaire. Si vous avez des bonnes idées s'il vous plaît laissez-nous savoir!

Il est gratuit – mais les dons sont bienvenus.

Pour participer, vous avez besoin d'un ordinateur, un accès Internet et un microphone.

Vous devez vous inscrire afin que nous puissions vous envoyer un email un lien pour connecter au webinaire.

Le nombre de participants est limité, réservez dès maintenant – Réservez gratuitement ici
Questions?  s'il vous plaît contactez:
Dear Green women,
Following the creation of the Global Greens Women's Network (GGWN) at the Global Greens Congress in Dakar in 2012, we are finally getting organised and will have some opportunities to undertake activities and work in the near future.
We will be holding some meeting of the network at the next Global Greens Congress in Europe, which will be held in 2017, from March 30 to April 2, in Liverpool, UK.
For now, we want your feedback about what we should do between now and 2017, including the Congress.
For that, we have prepared a simple survey for you, which shouldn't take more than a few minutes. Please take a short while to complete it.
We are thousands of Green Women around the world, but we are not connected. We want to build together a global greens sisterhood, a network with activities and useful tools for all the Green Women. Will you join us?  Please don't forget to sign up here to be in our database to keep informed. Also, follow us on Facebook!
09/24/2016 – 20:52