Published in Agro Times
We can see an immense number of youth in front of the Royal Palace museum every day.  Not to visit the museum but to apply for a passport at the passport division office, ministry of foreign affairs. I am sure, most of them deserves to get the job of their dream but due to the foolish government and their non-sense employment policy youth are in a burden to fly over the gulf countries and get themselves involved in whatever job they offer.
With the number of workers leaving abroad increasing each day, Nepal's overseas employment sector which constitutes one-fifth of the total gross domestic product is now facing many challenges. However, owing to the limited number of personnel in Nepali missions abroad in proportion to the soaring migrant workers and the growing number of labor destinations, it is becoming increasingly difficult to deal with the issue pertaining to the labor such as physical and economic exploitations, torture, and mistreatment and cheating by the employers, concerned manpower agencies, untimely deaths and mutilations. Our government seem thoughtless on these issues as a result neither local government nor the so-called international organization who pretend to work for the right and security of migrant workers are looking serious to address the issues.
Actually there is a big conspiracy and confusion in defining youth in our country. A high level commission formed under the coordination of Mr. Kedarbhaqt Mathema In 1995 A.D. defined 16-29 year of age group as youth. Immediately, another commission during 1999 A.D suggested 16-35 year of age group as youth and the government formed in 2009 after first constitution assembly election defined 16-40 year of age group as youth. Recently a committee has been formed to develop Youth Vision 2025 which has defined 16-35 years of age group as youth. Defining youth and making policy for the youth seems like a kind of joke for our governments and relevant agency. They make it and change it just to fulfil their political interest rather than addressing the overall youth issues.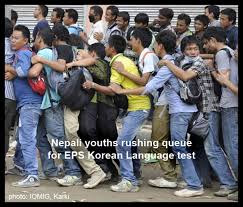 Senior politicians and bureaucrats do not yet seem to be honest to address the youth issues. They just pretend to listen to us but they don't really take us seriously. Youth policy and program are being developed taking their own interest under consideration.
According to a census published by the Government of Nepal in 2071 B.S. about 74 percent of youth are being employed overseas. About 25 percent of them are semi-skilled. Despite the fact that remittance has been contributing about 22 to 25 percent in National GDP neither government nor ministry of youth and labor affairs seems to be serious on the relevant issues. Due to lack of coordination and proper communication among the ministries government is unable to implement the existing programs which were already mentioned in the last year budget.
Since the Rana regime Nepal Government seems silent to participate and empower the youths at developmental sector. A bitter truth is government could not create such a huge number of employment opportunities over-night but government can play vital role in developing the employability of youth and participate them in developmental works. If we can do so, we could be able to achieve three basic kind of outcome. One, intensity of local develop will increase. Two, it would help to reduce the corruption. Three, youth would be able to understand & handle their social responsibility.
04/21/2015 – 11:16